See on Scoop.it - Anti-Exploitation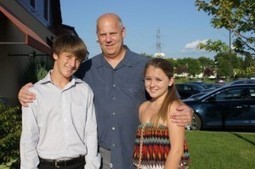 mcc43's insight:
Author of new 9/11 truth book killed found dead with his children

Former airline pilot Phillip (alternately, "Philip") Marshall spent a great deal of time around Santa Barbara last year preparing for the release of his controversial 9/11 conspiracy book "The Big Bamboozle: 9/11 and the War on Terror."

During the editing and pre-marketing process of Marshall's book, he expressed some degree of paranoia because the nonfiction work accused the George W. Bush administration of being in cahoots with the Saudi intelligence community in training the hijackers who died in the planes used in the attacks.

"Think about this," Marshall said last year in a written statement, "The official version about some ghost (Osama bin Laden) in some cave on the other side of the world defeating our entire military establishment on U.S. soil is absolutely preposterous."

Marshall went on to say: "The true reason the attack was successful is because of an inside military stand-down and a coordinated training operation that prepared the hijackers to fly heavy commercial airliners. We have dozens of FBI documents to prove that this flight training was conducted California, Florida and Arizona in the 18 months leading up to the attack."

The veteran pilot confided that he was concerned about his 10-year, independent 9/11 study and most recent book since they pointed to the Saudis and the Bush intelligence community as the executioners of the attack that defeated all U.S. military defenses on Sept. 11, 2001. Marshall said he knew his book might cause some people to take issue with him.

However, could last weekend's killings in the remote, gated community of Forest Meadows outside the tiny town of Murphys be another conspiracy? Although sheriff's investigators don't know the motive, they reported that the killings as a double murder and suicide. Marshall was found in his home's doorway in a pool of blood with a 9mm Glock pistol that he had just showed to a friend two weeks ago.
read more, click on title